Our story begins in 1906, when both Moore & Liberty Telephone and Griggs County Telephone Companies were established in the rural communities of Enderlin and Cooperstown, ND.  Now known as MLGC, we are a fourth-generation, FAMILY owned Rural Local Exchange Carrier (RLEC) which started with a switchboard and a telephone hanging on the wall that was cranked by hand.
Today MLGC can deliver ultra-high-speed broadband services, TV, telephone and advanced business services to our customers using a 100% Fiber Optic Network to connect our RURAL North Dakota communities of Cooperstown, McHenry, Finley, Binford, Enderlin, Sheldon, Kindred, Leonard, Davenport, South Fargo – Amber Plains and Round Hill developments, and Golden Lake – rural Hatton to the world.
Over the decades and as the communications world changes, one thing remains constant – our COMMITMENT to provide the best technologies and services at competitive rates.  MLGC's most recent ventures include providing fiber optic service to the rural areas of Horace, South Fargo, Kindred, Davenport, Mapleton, and Hickson.
In an era of exploding technology, our goal is to continue to deliver FUTURE technologies that make our rural communities in North Dakota vibrant places in which to live and do business in with a skilled and experienced TEAM who live in the same communities we serve. We are your LOCAL provider who prides itself on its unmatched customer service with a 'small-town' touch.
We serve communities across a wide range of rural areas. From Cass County to Foster, we provide television, internet, and phone services, giving our communities the resources they need to connect, communicate, and collaborate.
Binford
Cooperstown
Davenport
Enderlin
Finley
Glenfield
Golden Lake
Jessie
Kindred
Leonard
McHenry
Sharon
Sheldon
Amber Plains/Round Hill
Rural Cass County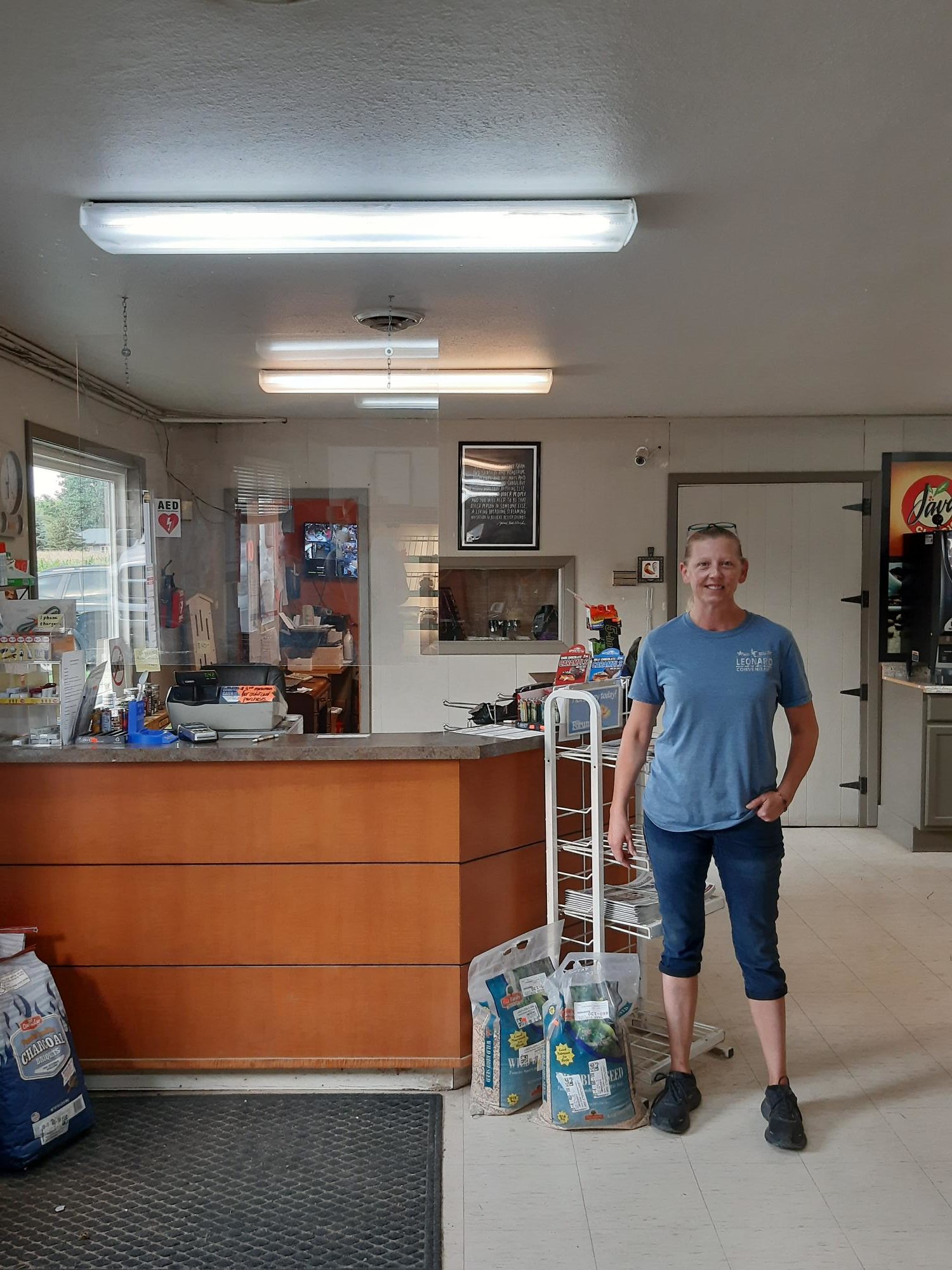 Jeanne Ahlers and her husband, Mike, bought the Leonard Convenience store on December 1, 2011. They are closing in on having the store for 10 years. Jeanne said that those years have flown by! Jeanne has many years of experience in the convenience store business having worked in Kindred and West Fargo in the past. Her favorite thing about owning the store in Leonard is seeing all the regular customers and getting to know them. Jeanne mentioned that a lot of people refer to the store as a "gathering place" or "information hub". People don't just stop by to get gas or a candy bar. They stop to see how their neighbor is doing and that is the great thing about a small town.
Mike plays a big behind the scenes role at the store. He handles all the maintenance of the store and works at the Embden Farmers Union.
The convenience store is famous for their take and bake pizza, sandwiches on fresh baked bread and buns, and the customer favorite – scotcharoos! Take and bake pizzas can be ready in 15 minutes or they will bake them for you within 30 minutes!
Jeanne says that having a reliable internet connection is so important to her business.
"So many people pay with credit/debit cards today and when your internet is down, you can't run those payments."
With MLGC she no longer worries about losing her connection and service has worked so well!
They pride themselves on being open and ready to serve the community. With being the only store within 15 miles of the next, she understands the importance of being open. The store hours are 6:30 AM to 8:00 PM every day.
FUN FACT: the convenience store has a free library open to everyone! There are two shelves full of books for all ages. Feel free to keep the book or bring it back and grab a new one!
North Dakota's Fiber Network
MLGC together with DCN and 13 other independent rural telecommunications companies in North Dakota have made significant investments in North Dakota's fiber infrastructure.  North Dakota has been honored by several publications and organizations as having one of the best data networks in the United States.